search
attachments
weblink
advanced
Your service desk has finally moved from Microsoft Excel spreadsheets to Atlassian Jira ServiceDesk and now all the queries are handled in a centralized way. The work of support agents is logged, processes are being harmonized, key metrics/SLA's are in place and monitored. The roll-out of ServiceDesk was a truly big achievement in your company which made the agents more efficient in their daily work. Seems like the pieces of puzzle code-named "ServiceDesk challenge" are getting in the right set up…
Send me an email, please?!?!
However, soon you'll realize that there's a critical piece of puzzle missing which directly affects the level of your customers' satisfaction – good system of email notifications. Despite numerous claims heard during the last 10 years that email is dead, most of the people who turn to SD for assistance would prefer to open an email message from convenience of their Inbox rather than learning how to use ServiceDesk portal. Who would want to navigate, log-in and search for a comment on your issue if you can simply read it from email? Not to mention the obvious fact that email is accessible from ANY internet-connected user device.
But my emails are ugly..
Unfortunately, when it comes to customer notifications, Jira ServiceDesk has significant limitations that you should be aware of.  Although, initial creating of support case from email (inbound emails) is doing its job for most typical cases, the further messaging is nothing but adequate for a well-run help-desk system. If you ever wanted to send a file mentioned in agent's comment as email attachment, add custom fields to message or subject content, notify external addresses using CC/BCC copies or merely have a custom layout with look-n-feel of your company then standard notifications will be not enough.
So, what can we do about it?
Generally speaking, you have two choices here:
A) Implement a custom solution based on Jira and ServiceDesk
B) Use a specialized App that will do it for you
Choosing option A means this:
1) Get the requirements right (from the beginning) 
2) Find a Jira consultant who is experienced in customization
3) Implement the solution on Java platform
4) Maintain it to be compatible with future releases of Jira ServiceDesk
5) If business folks will request any changes to the notifications then go to step 1 and repeat...
So, we end up with a small Java project and another piece of software that needs attention and maintenance effort. There should be a better way to get the e-mailing right...
Raley Notifications will help you out
And, fortunately, there is one! Raley Emails Notifications will solve your notifications challenges at a fraction of cost of option A! Our add-on is a battle-proof solution that supports the features you were looking for in a professional email notifications system. It was developed to resolve shortcomings of standard JSD notification system and is easy to use. Setting it up and getting the first emails up-and-running takes less than an hour. Without programming you can fully control the content of email, send attachments, show any field - standard or custom and have your emails sent to ANY address. Moreover, adding some HTML will make your messages look consistent with  your company brand book and make your customers feel more engaged. Raley Emails Notification is available on Atlassian Marketplace for both Cloud and Server version of Jira ServiceDesk.
With Raley Emails Notifications you can make a tailor notification to every customer, as emails are not looking like a canned JSD message, but carry information which is relevant to specific helpdesk and support request type. Thanks to fully customizable design and content of the message the customer will experience a more personalized approach and will develop more loyalty to your company brand. Make all the relevant information available from the convenience of customer's Inbox!
Give it a try at your helpdesk and make your customers more engaged with your service team! Free for first 30 days!
Inversion Point is pleased to announce a new release of Jirassimo Emails Reminders Notifications containing a new feature to simplify some of the challenges you face when doing queries in JIRA.  Our JQL pre-saved filters allow you to quickly access queries for the information you need to get your work done.
JIRA allows you to specify cherry-picked JQL conditions to search issues and save them as named queries. The next time you want to run a sophisticated search for issues, you will be able to select the appropriate saved query from the "Issues" menu. All the relevant queries will be displayed. Frequently, Jirassimo messenger configuration requires precisely the same JQL filter as defined in the host JIRA instance. Now, you can get it in two clicks. Just create a new messenger and select the filter from the popup called "Favourite filter". It will appear in the JQL filter field. Simple and convenient - no more error-prone retyping or copy-pasting.
In this version, you will find several bug fixes and improvements to further enhance your experience with Jirassimo Emails Reminders Notifications.
These fixes and new feature will help ease the adoption of Jirassimo within your team. Stay tuned, we have more new features coming your way soon.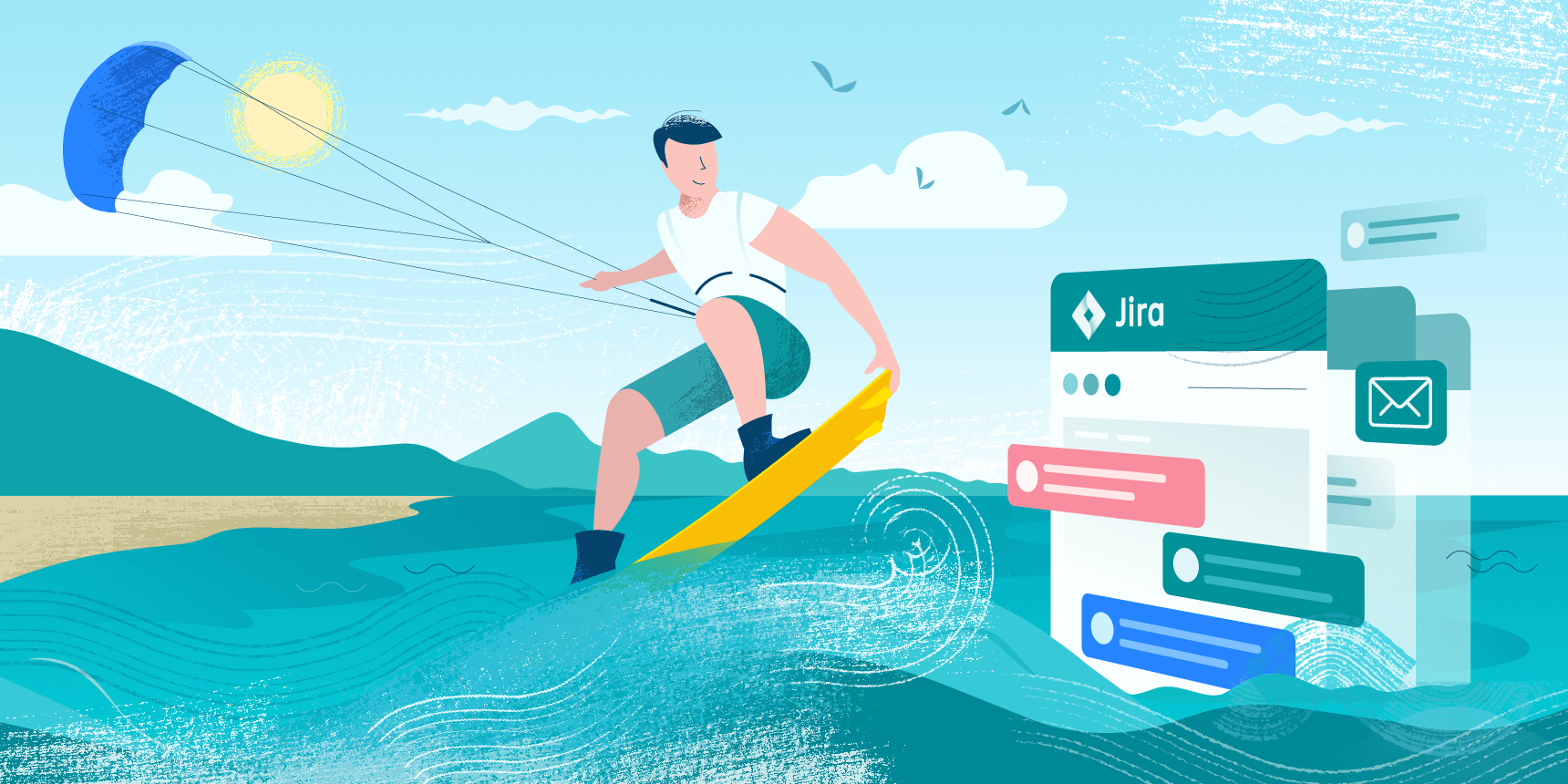 How much time have you wasted looking for that email containing vital information to help you make strategic decisions on your project? Sometimes relying on the built-in notification system in JIRA or JIRA Service Desk just does not cut it. That lost time could have been better spent working on other project-related matters.
Using a custom notification solution with JIRA can alleviate some of the challenges faced when meeting the demands of your project. Make the most of your project communications, so they don't turn out to be time wasters. Making communication clearer and more structured can minimize notification challenges. 
Here are five benefits you obtain from implementing a custom notification solution with JIRA.
Reduce the Number of JIRA Emails

The team just finished their meeting reviewing and updating the open JIRAs. Your inbox is inundated with many notifications. You start opening one right after the other to review the updates. You wonder why can't they just be consolidated into one email. 
Or you are an IT manager. How nice would be to receive a digested summary of the changes you care about, with the granularity that you need, from all the JIRA projects on Monday morning.
Sounds familiar? The number of JIRA notifications received after a meeting can be overwhelming. Consolidating them reduces the number of emails hitting your inbox. The result is less clutter, saves you time from going through them and increases your productivity.
Set Reminders

Sometimes, there're a few issues that you want to track because the customer has requested that they are resolved in time for the delivery of the project. You want to make sure that they are updated before the next meeting. Setting a reminder helps you to remain connected with the issue and stay on track of its progress.
Stay Informed

Changes or updates made to an issue? New tasks created? Send scheduled digest notifications daily or weekly to your inbox, Slack or HipChat channel. Stay informed and up-to-date with the latest information. Regular notifications will help you make decisions to keep your project on track.
Notify Your Customers

Sometimes customers want to be kept abreast of issues that affect them. Implementing a custom notification solution can help keep them informed and aware of the progress being made with an issue. 
Sometimes language is an issue. The implemented solution must be able to support the information in the preferred language of your customers. 
Automating notifications to customers is an efficient and effective way to manage and share information. You benefit by not having to follow up from the built-in JIRA notifications manually. This is especially important for those folks who use JIRA Service Desk.
Customize the Message

When sending communications to customers, you would like to customize what they receive. You may want to share only specific fields of a notification and insert your corporate logo, so they know the origins of the email. Custom notification solutions allow for these types of configurations as well as localization capabilities and modifications to the layout.
Is there a dependency on your customers to resolve an issue? A custom notification can keep your customer informed of the importance of the issue and the urgency required to address it.
Using a custom notification solution like Raley Email Notifications can fulfill your project communication needs and help you keep informed of the issues that concern you. It can be configured to support your desired layout or which fields you would like to share internally or externally. You don't need to be a developer to do these configurations. Everything can be done by a JIRA or project administrator. 
JIRA is an efficient way to track and manage project activities and resource workloads. An add-on like Raley Emails Notifications can be beneficial for your project and help keep it on track.